Product
Parallel Gear Motor--GM3.5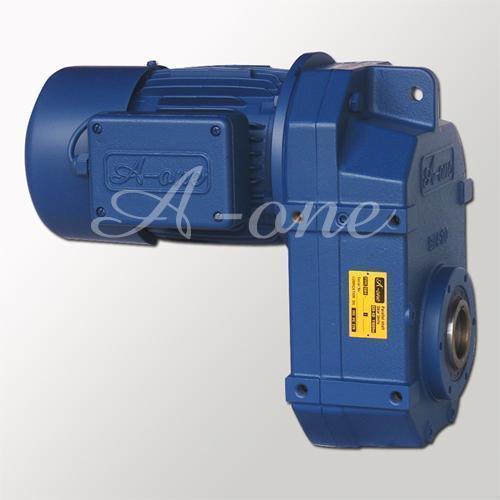 Parallel Shaft Gear Motor
Product ID: GM3.5-SERIES(A-one)
The A-one parallel gear motor applies modular design. Ratios are designed and selected to correspond with the normal usage of customers .The units are available for foot or flange mounting and can be installed in any directions and positions provided. With the power from 0.37 kw to 3.7 kw and the ration from 4 to 224, the parallel gear motor provides not only good function of the motor but also various options for you to choose from.


Gear boxes are designed with helical gear which makes it operate smoothly and quietly. The parallel gear motor is characteristic of high torque and low backlash. Please do not hestitate and contact us for more information about the quality product today. We are ready to serve you the best!


A-ONE CRANE CO., LTD. is ISO certified company and receives CE marking certification for all products. We guarantee that we only offer you the best service and products. If you have any interest about our parallel gear motors, please contact us soon for details.



Specification:Max. output torque: 900Nm
Ratio: 4-224
Power: 0.37kW-3.7kW
Output speed: 750rpm-4rpm
Output hollow shaft: 40mm ( with key way or spline )



Options:
Output flange
Output shaft
Spring operated disc brake, DC-Voltage
Forced cooling fan
Manual release of brake
Space heater
Thermal protector
Specifications:
Gear unit Type 

I
Ratio

Output speed n2

Output
torque T2

Input torque of input unit T1(Nm)
(for Fs=1.0)

(60Hz)rpm

(50Hz)rpm

Nm

2.5

5

10

15

25

45

50

GM3.5-4

4.42

407.24

339.37

360

○

○

○

○

○

○

○

GM3.5-5

4.67

385.44

321.20

370

○

○

○

○

○

○

○

GM3.5-6

6.07

296.54

247.12

390

○

○

○

○

○

○

○

GM3.5-7

7.15

251.75

209.79

400

○

○

○

○

○

○

○

GM3.5-9

8.97

200.67

167.22

400

○

○

○

○

○

○

○

GM3.5-11

11.16

161.29

134.41

720

○

○

○

○

○

○

○

GM3.5-14

13.16

136.78

113.98

780

○

○

○

○

○

○

○

GM3.5-18

18.67

96.41

80.34

900

○

○

○

○

○

○

-

GM3.5-22

22.01

81.78

68.15

900

○

○

○

○

○

-

-

GM3.5-28

27.62

65.17

54.31

900

○

○

○

○

○

-

-

GM3.5-36

34.88

51.61

43.00

900

○

○

○

○

-

-

-

GM3.5-45

43.72

41.17

34.31

900

○

○

○

○

-

-

-

GM3.5-56

53.85

33.43

27.86

900

○

○

○

○

-

-

-

GM3.5-71

73.12

24.62

20.51

900

○

○

○

-

-

-

-

GM3.5-90

90.06

19.99

16.66

900

○

○

-

-

-

-

-

GM3.5-112

112.62

15.98

13.32

900

○

○

-

-

-

-

-

GM3.5-140

139.66

12.89

10.74

900

○

○

-

-

-

-

-

GM3.5-180

172.01

10.46

8.72

900

○

-

-

-

-

-

-

GM3.5-224

215.10

8.37

6.97

900

○

-

-

-

-

-

-
Certificate:
CE Approved
China CCC certificate(3C)
Order Information:
Minimum Order: Negotiable
FOB: Taichung port, Keelung port
Contact Detail
| | |
| --- | --- |
| Contact: | Ms. Melody |
| Address: | No.185, Desheng Rd., Daya Dist., Taichung City 428, Taiwan (R.O.C.) |
| TEL: | 886-4-25602355~7 |
| FAX: | 886-4-25600999 |
| Email: | chec123@ms25.hinet.net |
| URL: | |
| ZIP: | 42846 |